George Plumbing is a name you can trust at a price you can afford!
Your friends at George Plumbing are ready to take care of all your plumbing needs. We've proudly been plumbing for residents and businesses of communities throughout North Alabama since 2005. With over 65 years of combined plumbing experience, our friendly and experienced plumbers are equipped to handle any plumbing situation you may face. And we do it all while treating your property as if it were our own—using high-quality materials, best plumbing practices, and honest, dedicated customer service you can count on.
As locals, we're honored to have earned the trust and respect of our neighbors in North Alabama as winners of both the Hartselle Enquirer and Decatur Daily Best-of-the-Best Reader's Choice Poll numerous years in a row. And we'll never rest on our laurels when it comes to helping our customers restore their homes and businesses to peak condition. All of our plumbers are licensed, bonded, and insured to handle all of your residential, commercial, and industrial plumbing services. So when your water heater struggles, your toilet leaks, your drains clog up, or you need to install a new sink, reach out and join the plumbing family at George Plumbing!
Call Now for Expert Plumbing Repair Service in Huntsville!
Count on our experienced residential service plumbers to get your household back on track. For gold-star service in North Alabama, call today!
Plumbing Problem?
We Can Help.
* Indicates required questions
"*" indicates required fields
Residential & Commercial Plumbing for North Alabama
Continued growth is on the horizon for Huntsville, Decatur, and our entire service area in North Alabama. And when you're focused on living, working, and succeeding, the last thing you need to worry about is plumbing repairs. When pipes burst, showers run cold, or water bills spike at your home or business, you can count on George Plumbing to make it right the first time. We make dependable plumbing repairs, replacements, and installations our first priority for every situation: family homes, small businesses, industrial plants, public service facilities, and more. Learn more about our residential and commercial plumbing services or contact us today!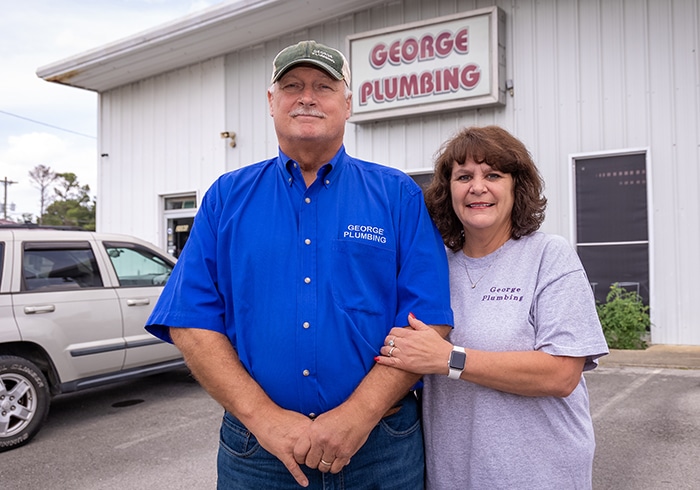 We've Made Our Name in Huntsville with Superior Service
Get in Touch with Our Service-First Plumbers
At George Plumbing, we're part of Huntsville, and we're committed to serving our friends and neighbors with the highest quality plumbing services. Contact us to schedule service or learn more about us today!